Electric Gate
Over time, your electric gate opener is bound to start showing signs of decay. If you have had one for years that has had little professional attention you might have already faced some of following malfunctions or may soon. Here we highlight some of the most common problems that can occur with electric gates and how a professional will be able to help fix them.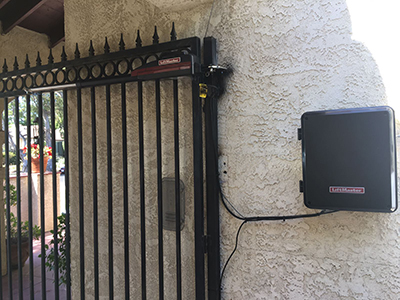 Battery or Motor Failure
On all electrical devices that use a battery, there is always a certain amount of time before the battery begins to lose its ability to hold charge effectively. When this happens you may notice a delay in its responsiveness, it may fail to turn on at all or will show increasing difficulties over the colder seasons. Motors begin to weaken over time also. They take in dirt and debris that can disrupt them, lose power and eventually can start to struggle to cope with the weight of your gate. Both these electric gate parts can be removed and replaced without having to change any other sections of the opener device that are working perfectly.
Sensor Failure
The sensors on your swing or sliding gate are there to prevent catastrophe. It can be quite alarming when they become the source of the problem. If your door opens part way, or doesn't seem to move at all even though it sounds like it's on, the sensors should be the first suspects. They can be misaligned, left to become increasingly dirty or have an electrical malfunction. An expert would make sure they are properly positioned, clean and working perfectly so that your gate can resume its proper safety protocols.
Remote Malfunctions
Remotes can be lost, crushed, stolen or have programming issues. The good thing about remotes is that they are easy to replace. You can also get rid of them entirely be using a mounted clicker or smart device instead.
Professional Electric Gate Services
If you suffer any problems with your automatic gate system we have the expertise to locate the issue and bring your gate back to perfect working order. If you are looking for electric gate opener installers, we can help have your new electric gate fitted and working flawlessly.
Call us today for a quote or more information about any of your gate repair services.